Electric facility management and maintenance vehicles by ARI Motors
simple. different. electric.
Configure now in 4 easy steps!
Ideal for building cleaning and facility management!
ARI Motors offers versatile electric transporters in various sizes for building cleaning companies and facility management from 6,995 euros net. The cargo trike ARI 345 with a box body or as a pickup has a payload of 325 kg and can be driven with a moped driver's licence. The manoeuvrable light electric van ARI 458 from 13,700 euros net can carry a payload of 531 kg and is available in numerous body variants: e.g. with box body, but also as a pickup (also with tarpaulin construction). The large electric transporter ARI 901 is available in four variants, including as a practical van or with a box body in 3 sizes.
Available in three box body sizes
The box bodies are available in three sizes for all electric maintenance vehicles. The ARI 345 Box can load up to 1.9 m³, the ARI 458 with box body achieves a maximum loading volume of 2.8m³. The vehicle is also ideal for city traffic thanks to its small dimensions. With the larger ARI 901, up to 7.6 m³ of load space is possible in the box version. All box bodies can also be fitted with roller shutters and additional doors.
Lots of choice, lots of range!
The ARI 345 is also available with a box body in three sizes. In addition to the pickup and tipper models, the ARI 458 is also available as a pickup vehicle with tarpaulin and with a box body available. In addition, individual vehicle body structures are possible at ARI Motors on customer request. The ARI 458 has a lead gel battery with a range of up to 120 km (75 mi.) as standard, LiFePO4 batteries with a range of up to 495 km (308 mi.) are optionally available. Depending on the structure, the ARI 901 has a range of 235 to 250 kilometres (146 - 155 mi.).
Subsidies in many countries
The ARI Motors electric vehicles are subsidised by many countries of the world or in their federal states and municipalities. In this way, the low purchase prices can be subsidised again with several thousand euros. Please check the subsidies for electric mobility in your region or contact us for more information.
ARI 458 Box in service of building management company "Werner Companies" in Bavaria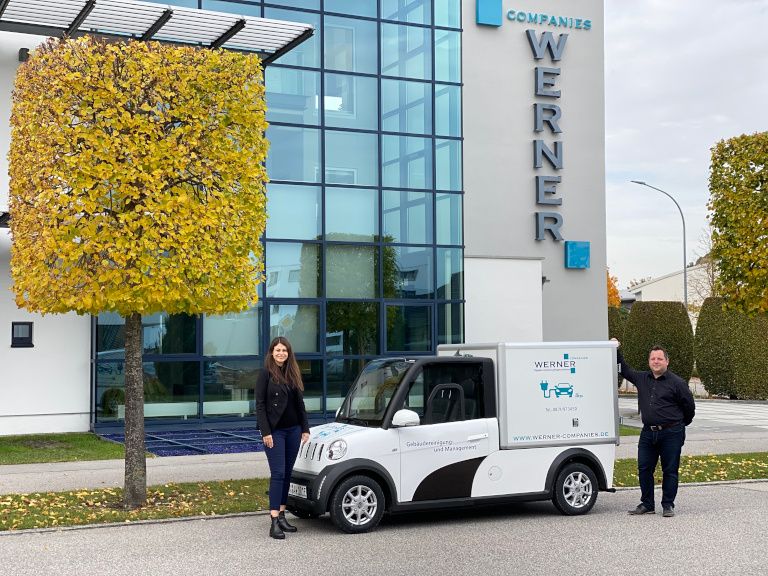 Electric vehicles from ARI Motors are very popular with building cleaning and maintenance companies. The company "WERNER COMPANIES", which has been in the field of building cleaning and building management for 30 years, also bought an ARI 458 Box. The vehicle travels around 40 kilometres (25 miles) a day in Burghausen, Upper Bavaria, to ensure that the public toilets in the idyllic little town are cleaned.
According to project manager Johannes Frankenreiter, the "WERNER" company decided in favor of the ARI 458 because of the convincing price/performance ratio and the robust box body. The latter is 1.31 meters long, 1.16 meters wide and 95 centimeters high and is ideal for transporting cleaning materials. Employees, customers and suppliers also all reacted positively to the electric vehicle.
ARI