Electric cemetery maintenance vehicles for your company or municipality!
simple. different. electric.
Configure now in 4 easy steps!
Ideal for cemetery maintenance!
ARI Motors offers versatile electric transporters in various pickup and tipper sizes for cemetery maintenance. The cargo trike ARI 345 Pickup, 325 kg payload and up to 1.8 m² loading area can already be driven with a moped driving licence and is available from 6,995 euros net. The manoeuvrable light electric van ARI 458 from 14,700 euros net can carry a payload of 531 kg and is also available as a pickup or tipper. The large electric transporter ARI 901 with a payload of around 900 kg is also available in these two body types, the price starts at 35,995 euros net. All models can also be optionally equipped with a practical lattice box or a fastening net including eyelets for transporting green waste.
Available in three loading bed sizes
All electric pickup and tipper models are available in three loading sizes. The ARI 345 Pickup has a manually tiltable loading area with a loading area of up to 1.8 m². The ARI 458 has a maximum loading area of more than 2 m². The vehicle is also ideal for narrow cemetery paths thanks to its small dimensions. The large electric transporters ARI 901 Pickup and ARI 901 Tipper are also available in three versions with a loading bed of up to 5 m².
Lots of choice, lots of range!
The ARI 345 is also available with a box body in three sizes. In addition to the pickup and tipper models, the ARI 458 is also available as a pickup vehicle with tarpaulin and with a box body available. In addition, individual vehicle body structures are possible at ARI Motors on customer request. The ARI 458 has a lead gel battery with a range of up to 120 km (75 mi.) as standard, LiFePO4 batteries with a range of up to 495 km (308 mi.) are optionally available. Depending on the structure, the ARI 901 has a range of 235 to 250 kilometres (146 - 155 mi.).
Subsidies in many countries
The ARI Motors electric vehicles are subsidised by many countries of the world or in their federal states and municipalities. In this way, the low purchase prices can be subsidised again with several thousand euros. Please check the subsidies for electric mobility in your region or contact us for more information.
ARI 458 Pickup L with lattice box at funeral home in Parchim (Germany)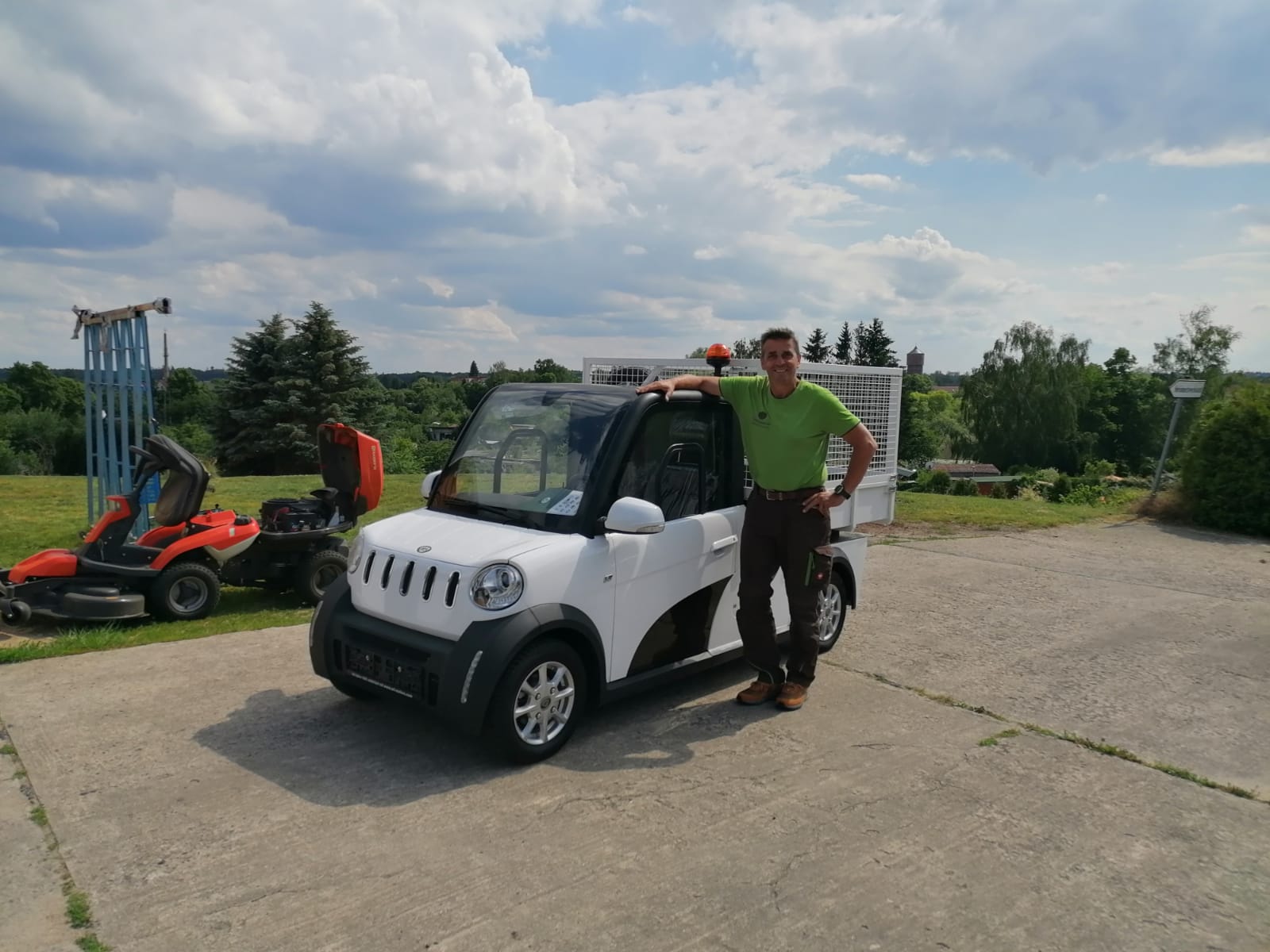 In Parchim in Mecklenburg-Western Pomerania, one of the ARI 458 electric light vans has a special task. Here, an ARI 458 Pickup L is in the service of the company "Wockertal Gartenbau GmbH & Haus der Bestattung am Friedhof Parchim". The vehicle is used especially for grave maintenance, but also for disposal or occasional shopping.
The ARI 458 demonstrates some of its advantages on the site of the company. On the one hand, the electric transporter with its overall width of 1.30 meters is very well suited for the often narrow paths on the site, on the other hand, the electric drive does not disturb the respectful peace of the cemetery, but does its work quietly - and of course without exhaust gases.
As the ARI 458 Pickup L, the vehicle has a loading area that is 1.50 meters long and 1.24 meters wide and is also equipped with a lattice box. This makes it easier to use the vehicle when transporting bulky flora or other materials. Managing Director Matthias Müller says that the reactions of employees and visitors have been consistently positive, the ARI 458 Pickup L looks modern and progressive thanks to its electric drive.
ARI