Electric parcel and mail delivery vehicles for courier services
simple. different. electric.
Configure now in 4 easy steps!
Ideal for mail and parcel delivery!
ARI Motors offers versatile electric delivery vehicles in various sizes for courier services as well as post and parcel delivery. The cargo moped ARI 145 is particularly suitable for letter delivery and can be equipped with individual transport boxes. The cargo trike ARI 345 from 6,995 euros net can be ordered with a box body in three sizes. Both cargo mopeds can already be driven with a class AM moped driving licence. The box bodies are also available in three sizes for the ARI 458 light electric van. The delivery vehicle thus achieves a maximum loading volume of 2.8 m³. And the large electric transporter ARI 901 is available as a panel van or with a box body in three sizes with a loading volume of up to 7.6 m³. All box bodies can also be fitted with roller shutters and additional doors, making loading and unloading even easier.
Available in three box sizes each
The box bodies are available in three sizes for all electric delivery vehicles. The ARI 345 with box body can be provided with a loading volume of up to 1.9 m³, depending on transport requirements. The three box bodies of the ARI 458 offer between 1.5 m³ and 2.8 m³ loading volume, depending on requirements. The ARI 901 electric transporter is available as a box version in three variants with up to 7.6 m³ and is also available as a spacious box van. All box bodies can also be fitted with roller shutters and additional doors.
Lots of choice, lots of range!
In addition to the box model, the cargo trike ARI 345 is also available as a flatbed. The electric small transporter ARI 458 is available in numerous variants. In addition, individual vehicle bodies are also possible at ARI Motors on customer request. The ARI 458 has a lead gel battery with a range of up to 120 km (75 mi.) as standard, LiFePO4 batteries with a range of up to 495 km (308 mi.) are optionally available. Depending on the structure, the ARI 901 has a range of 235 to 250 kilometres (146 - 155 mi.).
Subsidies in many countries
The ARI Motors electric vehicles are subsidised by many countries of the world or in their federal states and municipalities. In this way, the low purchase prices can be subsidised again with several thousand euros. Please check the subsidies for electric mobility in your region or contact us for more information.
ARI 458 Box as a parcel delivery vehicle at Debex in Potsdam (Germany)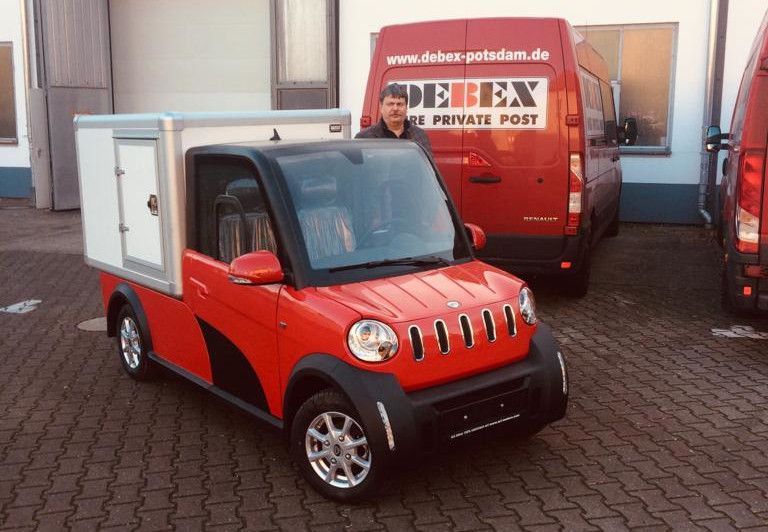 The parcel and mail delivery industry has increasingly relied on electric mobility in recent years. Particularly in urban areas, vehicles like those of ARI Motors offer many advantages, as they do their work without diesel exhaust fumes and noise. The company "Debex Potsdam" has therefore chosen the electric transporter ARI 458 Box to reliably support letter delivery in the urban area of Potsdam and at the same time fulfill the promise of CO2-neutral delivery.
Even the smallest version of the ARI 458 Box has a loading space of 1.32 meters x 1.16 meters x 0.95 meters (LxWxH), making it ideal for delivering mail in any form. For higher transport requirements, the box is available up to a size of 1.64 meters x 1.30 meters x 1.30 meters (LxWxH) as the ARI 458 Box XL. At "Debex Potsdam", it thus forms the interface between muscle-powered delivery by bicycles and the large transporters with combustion engines.
ARI