Electric chimney sweep vehicles by ARI Motors!
simple. different. electric.
Configure now in 4 easy steps!
Ideal for your chimney sweep company!
ARI Motors offers versatile electric transporters in various sizes for chimney sweeps from 6,995 euros net. The ARI 345 cargo trike with a box body has a payload of 325 kg and can already be driven with a moped driver's licence. The manoeuvrable small electric transporter ARI 458 from 14,700 euros net can carry a payload of 531 kg and is available in numerous body variants: e.g. with a box body in three sizes, but also as a pickup with tarpaulin. In addition, individual construction variants are possible without problems on customer request. The large electric transporter ARI 901 is available in four variants, including a practical van or with a box body in 3 sizes.
Available in three box sizes each
The box bodies are available in three sizes for all electric chimney sweep vehicles. The ARI 345 Box can load up to 1.9 m³, the ARI 458 with box body achieves a maximum loading volume of 2.8m³. The vehicle is also ideal for city traffic thanks to its small dimensions. With the larger ARI 901, up to 7.6 m³ of cargo space is possible in the box version. All box bodies can also be fitted with roller shutters and additional doors.
Viel Auswahl, viel Reichweite!
In addition to the box models, the ARI 458 is also available as a pickup vehicle with tarpaulin. In addition, individual assembly solutions are possible at ARI Motors in consultation with the customer. The ARI 458 has a lead gel battery with a range of up to 120 km (75 mi.) as standard, LiFePO4 batteries with a range of up to 495 km (308 mi.) are optionally available. Depending on the structure, the ARI 901 has a range of 235 to 250 kilometres (146 - 155 mi.).
Subsidies in many countries
The ARI Motors electric vehicles are subsidised by many countries of the world or in their federal states and municipalities. In this way, the low purchase prices can be subsidised again with several thousand euros. Please check the subsidies for electric mobility in your region or contact us for more information.
ARI 458 Box as a "charmer" in use by chimney sweep in Oberhausen (Germany)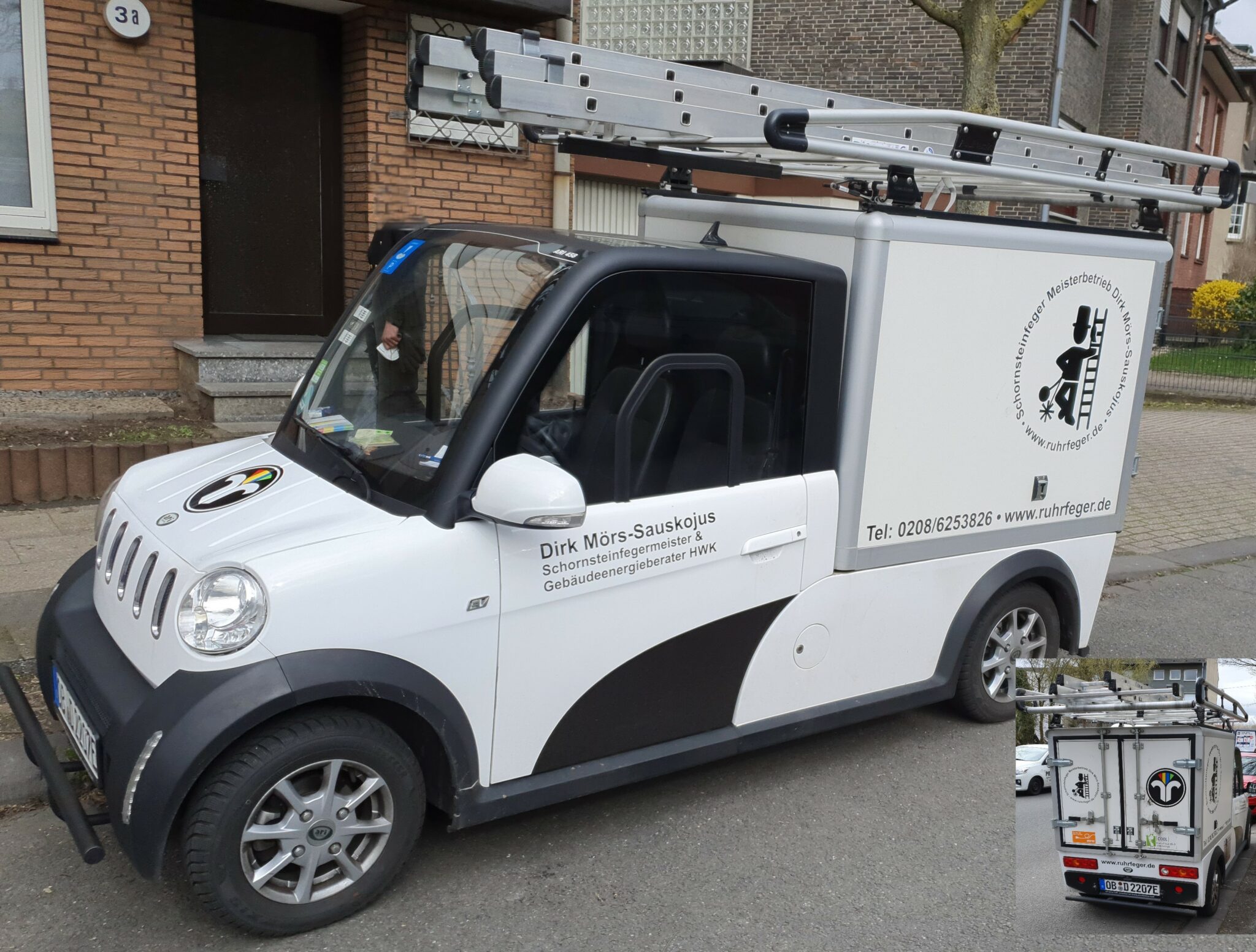 When the chimney sweep Dirk Mörs-Sauskojus from Oberhausen went looking for an electric vehicle for his company as part of environmental protection management, he was initially put off by the high prices. However, the plan to purchase an electric vehicle for the company could still be fulfilled because Mr. Mörs-Sauskojus discovered the inexpensive and versatile ARI 458 electric light van on the internet.
And so, since 2020, an ARI 458 Box has replaced a Citroen Berlingo with a combustion engine on trips to the Oberhausen city area. The ARI 458 Box with the loading dimensions 1.32 meters x 1.16 meters x 0.95 meters (LxWxH) actively supports Mr. Mörs-Sauskojus and his colleagues in ensuring the cleaning and maintenance of chimneys. While there is load space for all the tools and equipment in the box, the ladder is transported on the ladder rack on the roof, which Mr. Mörs-Sauskojus assembled himself. In addition to cleaning and maintenance measures, the company also offers its customers advice on topics such as fire and environmental protection.
ARI