Electric vehicles for your campsite or holiday resort!
simple. different. electric.
Configure now in 4 easy steps!
Ideal for your campsite or holiday resort!
ARI Motors offers versatile electric transporters in various sizes for operators of campsites and holiday homes from 2,995 euros net. The cargo mopeds ARI 45 and ARI 145 are ideal for smaller transports on narrow terrain. The larger ARI 345 cargo trike is available with a box body and as pickup and can be driven with a moped licence despite a payload of up to 325 kg. The manoeuvrable light electric van ARI 458 from 13,700 euros net can carry a load of 531 kg and is available in numerous body variants: the box body, which can be individually designed, is particularly suitable for the industry, e.g. for cleaning or changing the bed linen. The large electric transporter ARI 901 is available in four variants, including as a practical van or with a box body in 3 sizes.
Available in three box sizes
The electric vehicles with a box body are usually available in three sizes. The ARI 345 Box can hold up to 1.9 m³ of cargo, the ARI 458 with Box body achieves a loading volume of 2.8m³.The vehicle is also ideal for narrow terrain thanks to its small dimensions. For higher transport requirements, the ARI 901 offers up to 7.6 m³ of loading space in the Box version and around 4.3 m³ as the van. All box bodies can also be fitted with roller shutters and additional doors.
Lots of choice, lots of range!
The ARI 345 is also available with a box body in three sizes. In addition to the pickup and tipper models, the ARI 458 is also available as a pickup vehicle with tarpaulin and with a box body available. In addition, individual vehicle body structures are possible at ARI Motors on customer request. The ARI 458 has a lead gel battery with a range of up to 120 km (75 mi.) as standard, LiFePO4 batteries with a range of up to 495 km (308 mi.) are optionally available. Depending on the structure, the ARI 901 has a range of 235 to 250 kilometres (146 - 155 mi.).
Subsidies in many countries
The ARI Motors electric vehicles are subsidised by many countries of the world or in their federal states and municipalities. In this way, the low purchase prices can be subsidised again with several thousand euros. Please check the subsidies for electric mobility in your region or contact us for more information.
Four ARI 458 with customized vehicle bodies at the Van der Valk resort at the Baltic Sea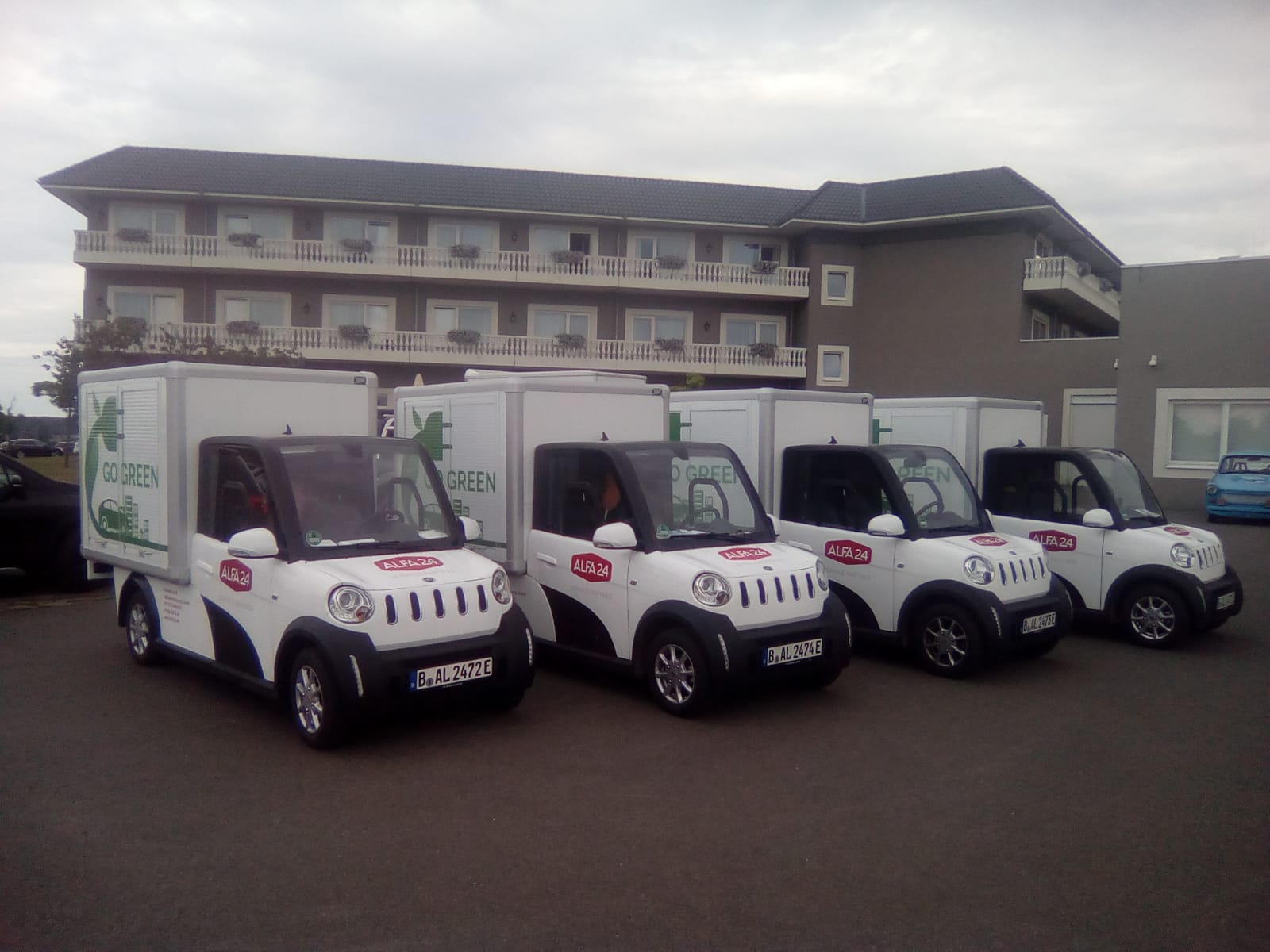 Guests at the "Van der Valk" resort in Linstow (Germany) can marvel at a beautiful example of the individually adaptable bodies of the ARI 458 light electric vans. There are four vehicles from ARI Motors on the road for "ALFA24 Hotelservice und Gebäudereinigungs GmbH" to ensure the cleaning and care of the holiday homes and the hotel. For this purpose, "ALFA24", together with ARI Motors, converted the XL box body of the ARI 458 into a two-part, mobile laundry warehouse.
Measuring 155 cm long, 125 cm wide and 130 cm high, the box has been divided vertically and equipped with compartments to collect dirty laundry quickly and easily, while fresh laundry can be distributed at the same time. This is done via the large doors and flaps, which have been individually designed to simplify the fast work processes in the hotel industry. So the exchange of bed linen can be done in no time at all. And cleaning utensils and equipment also fit into the large box without any problems.
ARI