Electric municipal vehicles by ARI Motors
simple. different. electric.
Configure now in 4 easy steps!
Ideal for cities, municipalities and communities!
ARI Motors offers versatile electric transporters in different variants and sizes for municipal companies and communities. Whether for landscaping, maintenance work or material transport: ARI Motors offers the ideal transport solution for every task. The ARI 345 cargo trike is available as a pickup (also with a tarpaulin body) or with a box body in three sizes and can carry a payload of 325 kg. It can already be driven with a moped driving licence and is available from 6,995 euros net. The manoeuvrable light electric van ARI 458 from 13,700 euros net can carry a payload of 531 kg and is available in numerous bodies: as a pickup (with or without tarpaulin body), tipper, food truck or with a box body, which can also be cooled. The large electric transporter ARI 901 with a payload of around 900 kg is available in four body versions, the price starts at 35,995 euros net. All models can also be optionally equipped with practical lattice boxes or a fastening net for transporting green waste.
Available in three vehicle body sizes each
The pickup and tipper models are particularly recommended for the maintenance of green areas. These are each available in three loading area sizes. The ARI 345 Pickup has a manually tiltable loading area with a loading area of up to 1.8 m². The ARI 458 has a maximum loading area of more than 2 m². The vehicle is also ideal for narrow paths in the countryside thanks to its small dimensions. The large electric transporter ARI 901 Pickup and ARI 901 Tipper is also available in three versions with a loading area of up to 5 m².
Lots of choice, lots of range!
The ARI 345 is also available with a box body in three sizes. In addition to the pickup and tipper models, the ARI 458 is also available as a pickup vehicle with tarpaulin and with a box body available. In addition, individual vehicle body structures are possible at ARI Motors on customer request. The ARI 458 has a lead gel battery with a range of up to 120 km (75 mi.) as standard, LiFePO4 batteries with a range of up to 495 km (308 mi.) are optionally available. Depending on the structure, the ARI 901 has a range of 235 to 250 kilometres (146 - 155 mi.).
Subsidies in many countries
The ARI Motors electric vehicles are subsidised by many countries of the world or in their federal states and municipalities. In this way, the low purchase prices can be subsidised again with several thousand euros. Please check the subsidies for electric mobility in your region or contact us for more information.
ARI 458 Tipper with lattice box at the municipal works in Demmin (Germany)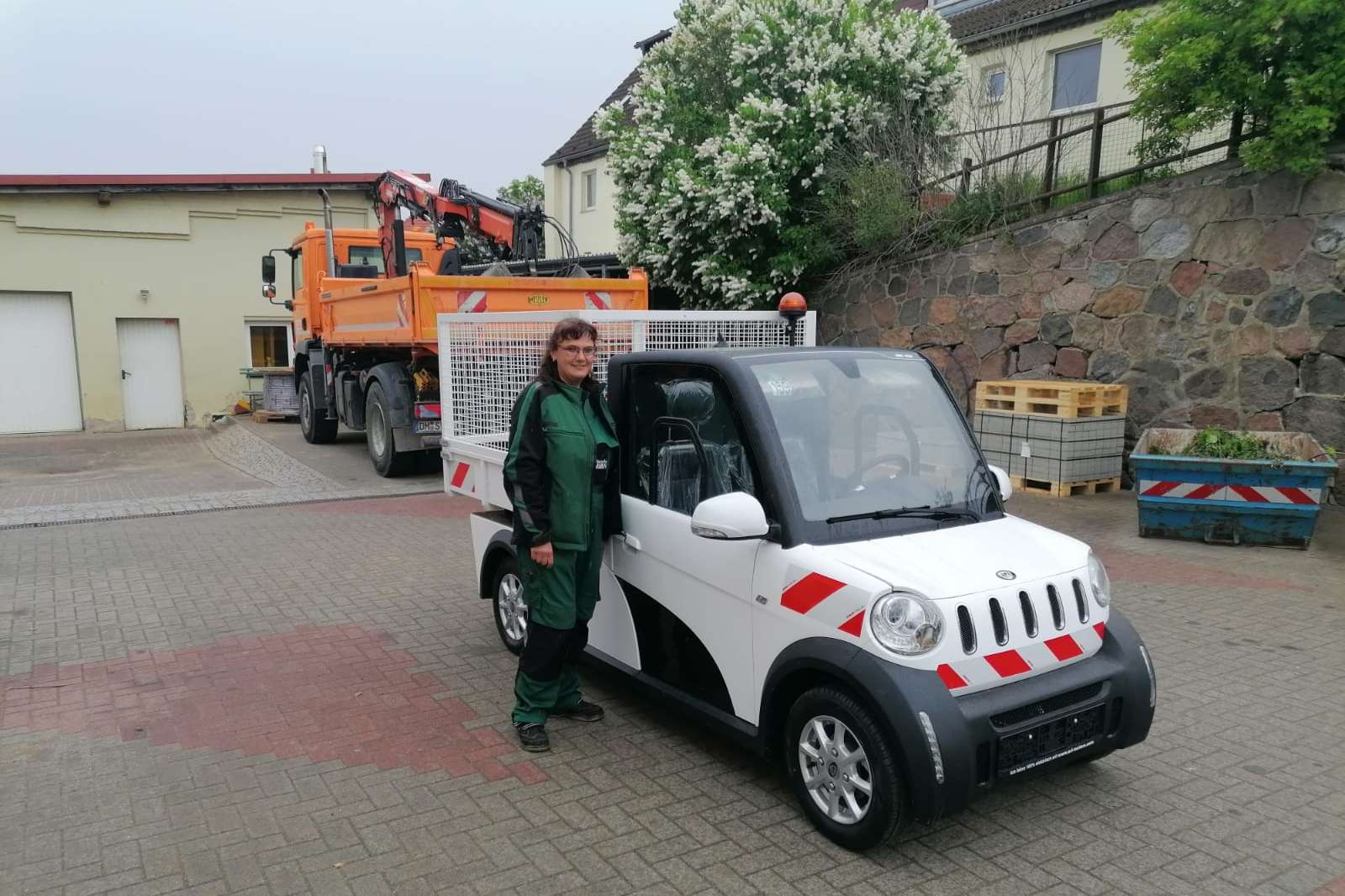 In addition to the industry and trade, more and more municipalities are discovering the advantages of the agile and practical ARI 458 electric light van from ARI Motors. For example, the municipal works of Demmin in Mecklenburg-Western Pomerania has integrated an ARI 458 Tipper with a lattice box into its fleet. The municipality has committed itself to reducing CO2 emissions and has put a biogas plant into operation, for example. Our environmentally friendly ARI 458 electric transporter fits perfectly with the image of the forward-looking public utility company.
In order to give the vehicle an official exterior, the ARI 458 Tipper was provided with an orange rotating beacon and red and white stickers. So everyone can see that the municipality itself is on the move here and is doing something for the appearance and infrastructure of the city. Because the ARI 458 light electric van is also suitable for maintenance work or regular checking of infrastructure points within a municipality. In this way, the important checkpoints can be passed without the residents being bothered by engine noise and diesel exhaust fumes. This creates a progressive combination of environmental and citizen friendliness, which may soon find its way into your community.
ARI