Electric cooling vans and catering vehicles by ARI Motors!
simple. different. electric.
Configure now in 4 easy steps!
Ideal for catering and food transport!
ARI Motors offers versatile electric cooling vans and catering vehicles in various sizes from 6,995 euros net. The ARI 345 cargo trike with box body, 325 kg payload and up to 1.8 m³ loading volume can already be driven with a moped driver's licence. The manoeuvrable light electric van ARI 458 from 14,700 euros net can carry a payload of 531 kg and is available in numerous body variants, e.g. with a refrigerated box body or as a sales vehicle for sale at markets. The large electric transporter ARI 901 is available, for example, as a panel van and with a box body, which can be equipped with a cooling system. The vehicle can carry a payload of around 900 kg and is available from 35,995 euros net.
Available in three box sizes
The box bodies are available in three sizes for all electric vehicles. The ARI 458 achieves a maximum loading volume of 2.8 m³. The vehicle is also ideal for city traffic thanks to its small dimensions. The box of the large electric transporter ARI 901 has a loading volume of up to 7.6 m³. All box bodies can also be fitted with roller shutters and additional doors. The optionally available cooling unit, which can cool the cargo when the vehicle is stationary or while driving, is also ideal for transporting groceries and food.
Lots of choice, lots of range!
In addition to the Cooling Van, the ARI 458 is also available as a Market Truck or as a platform vehicle with tarpaulin. All vehicle bodies are available in three sizes. In addition, individual structures are possible on customer request. The ARI 458 has a lead gel battery with a range of up to 120 km (75 mi.) as standard, LiFePO4 batteries with a range of up to 495 km (308 mi.) are optionally available. Depending on the structure, the ARI 901 has a range of 235 to 250 kilometres (146 - 155 mi.).
Subsidies in many countries
The ARI Motors electric vehicles are subsidised by many countries of the world or in their federal states and municipalities. In this way, the low purchase prices can be subsidised again with several thousand euros. Please check the subsidies for electric mobility in your region or contact us for more information.
ARI 458 Box L as Coolin Van to transport food in Drensteinfurt (Germany)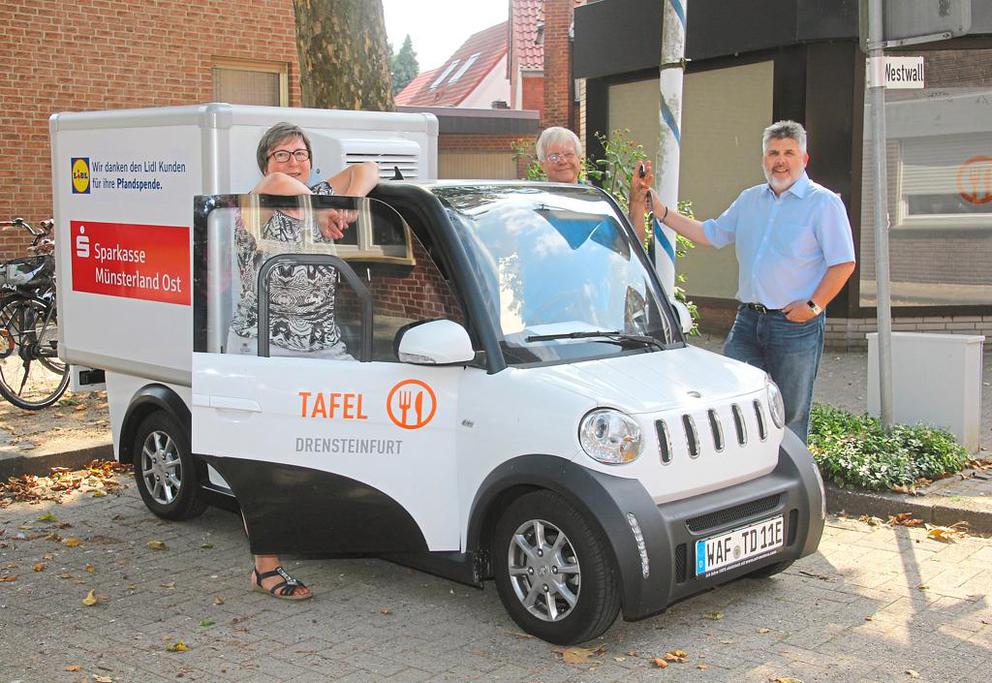 Sustainability has many facets. In addition to electromobility - as represented by ARI Motors - an important one concerns food and its distribution. Because in Germany several tons of perfect food are destroyed every day, while many economically disadvantaged people experience a shortage. This is where the nationwide "Tafel'' associations come in, which collect excess food and distribute it unbureaucratically to people who are financially weaker.
The electric transporter used in Drensteinfurt is an ARI 458 Box L. This has a loading space with a length of 149 cm, a width of 125 cm and a height of 110 cm. This means that more than 2.1 m³ volume is available for groceries and other goods. To keep the food fresh, the vehicle is also equipped with a cooling system in the case that can be controlled individually. This version is now available as the ARI 458 Cooling Van.
ARI